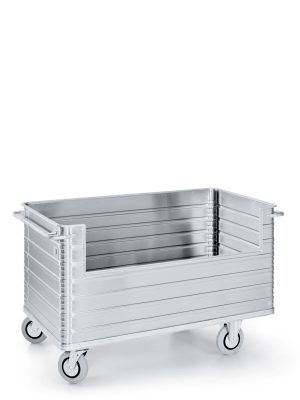 Contact us for more information
Sturdy, generously dimensioned edge and base profile sections, high-strength positive locking ensures permanent bonding to jacket and base metal.
End and side walls reinforced with peripheral beading and corner beads.
One long side with cut-out section, approx. 48.4 × 11.6 in.
Container cut-out with profile-section surround; profile-section joints continuously welded.
One ergonomic handle at either end.
Chassis: two swivel and two fixed casters, corner-mounted, 4.9 in. diameter, 1.6 in. wide, easy running, rubber wheels, "non-marking," roller bearings, thread guards.
Choose from the tabs above for additional product options and details.
Sizes
SKU
External L" x W" x H"
Internal L" x W" x H"
Volume ft3
Lbs.
40634
59.1 × 35.4 × 27.6
65.0 × 37.4 × 38.6
33.4
81.6
All dimensions approximate.