Laundry Storage and Transport Carts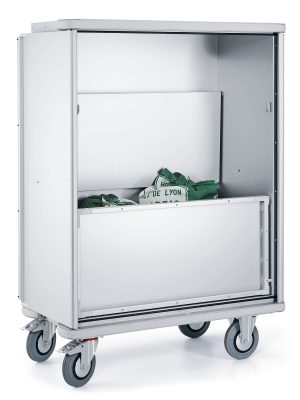 Contact us for more information
Aluminum cupboard cart, anodized, for transporting laundry.
Smooth interior, no inaccessible areas – easy to clean.
Two additional shelves, bottom shelf can be folded down towards the front, the top shelf towards the rear.
Ergonomically shaped, anodized aluminum handle, on swivel caster side.
Chassis: Two swivel and two fixed casters, corner-mounted, 9 in. diameter, easy running, rubber wheels, "non-marking," with thread guards.
Also suitable for container wash-down facilities if suitable special running-gear casters are used.
Choose from the tabs above for additional product options and details.
Sizes
SKU
External L" x W" x H"
Internal L" x W" x H"
Volume ft3
Lbs.
379452
49.6 × 24.8 × 68.3
44.1 × 21.7 × 55.7
30.7
158.7
All dimensions approximate.