Operating Room Laundry Cart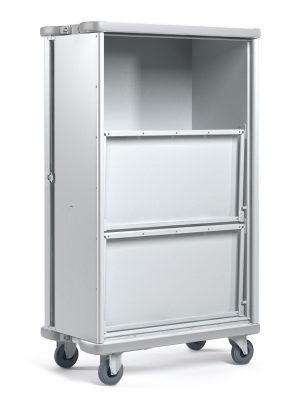 Contact us for more information
Aluminum cupboard cart, anodized, for transporting sterile fresh-laundry packs and dirty laundry.
Smooth interior, no inaccessible areas – easy to clean.
Two additional shelves, both can be folded down towards the front.
Ergonomically shaped, anodized aluminum handle, on swivel caster side.
Chassis: two swivel and two fixed casters, corner-mounted, 3.9 in. diameter, easy running, rubber wheels, "non-marking," with thread guards.
Also suitable for container wash-down facilities if suitable special running-gear casters are used.
Choose from the tabs above for additional product options and details.
Sizes
SKU
External L" x W" x H"
Internal L" x W" x H"
Volume ft3
Lbs.
41864
38.4 × 21.7 × 65.2
32.9 × 18.5 × 55.7
19.6
138.9
All dimensions approximate.